WELLCAMP is a 100% export corporation with high quality design&manufacture.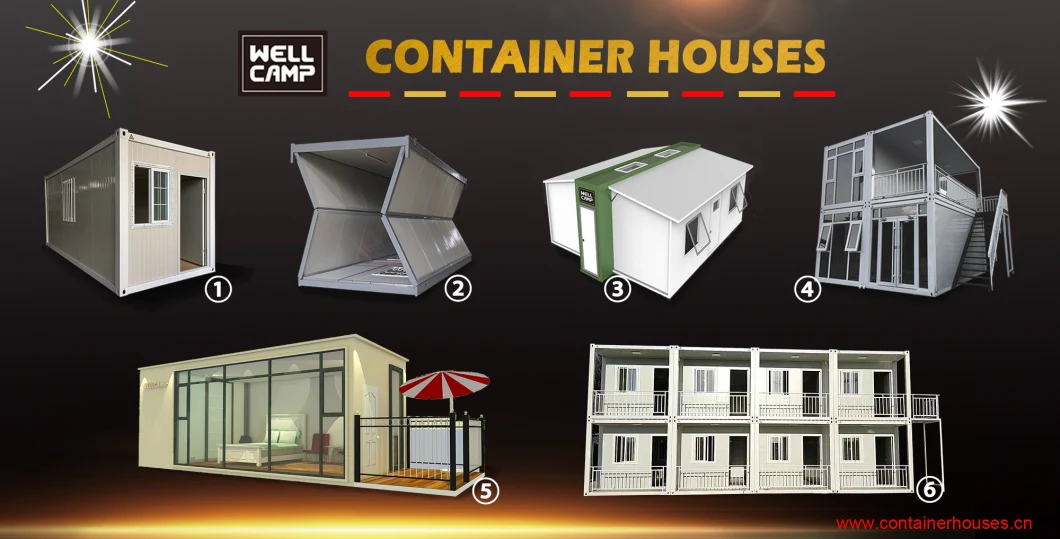 WELLCAMP Economic Portable Toilet, also called EPS Toilet, EPS Site Toilet, Movable Site Toilet, Economic Site Toilets, Modular Portable Toilets, Blue Economic Toilets and Site Toilets, refer to toilet stalls that are made from Aluminum Sections & EPS sandwich panels & installed with windows, doors, electrics, plumbing, sanitary, sometimes also included waste buckets.
Such portable toilets are commonly used
in construction sites, oil sites, mining sites as workers' toilets, site showers, also used for solider camps, government projects & school projects as temporary site toilets & bathrooms.
Sometimes used as rental toilets or public toilets at rural areas, which are easy to set up & transport. Therefore, the portable toilet is famous in plenty of areas.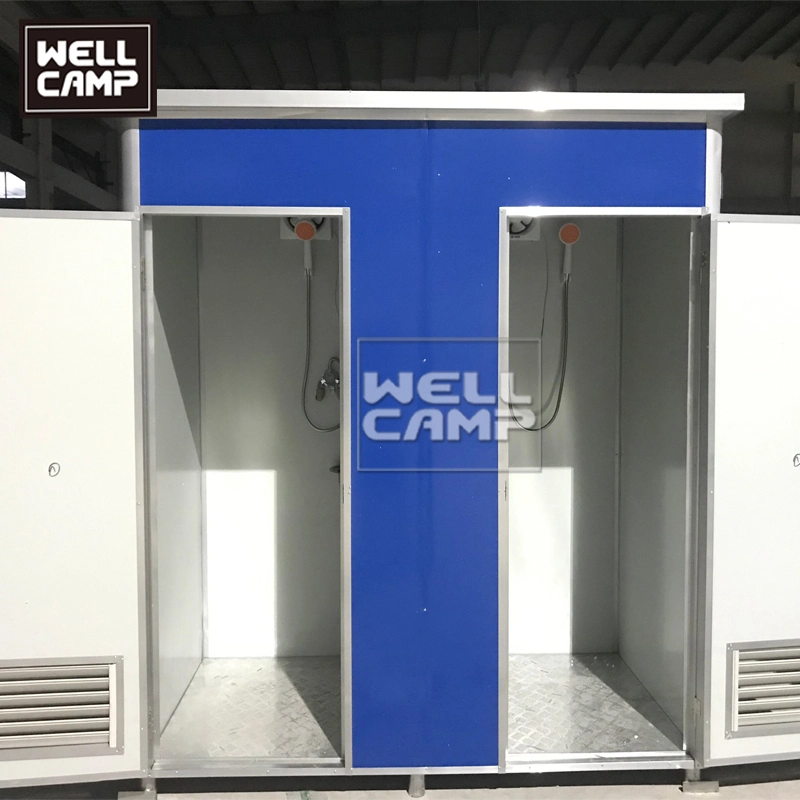 Completed as 1 set! Can come in Parts & install at site or come as completed set! No need Cement Foundation. Need local water supply & waste treatment. Can manufacture as single units, twin units or even 5-in-1 units. Can also be shower room according to customer requirements. All sanitary have arranged install slots. Assembly structures by bolts & apply panels according to channel grooves, attach together by screws & rivets.
WELLCAMP EPS Portable Toilets come in different sizes, but has fixed parameters to calculate the dimensions & areas. The most common design is dimension 1.1m*1.1m*2.3H, which is 1.21 m2 area of 1 toilet or 1 shower head + 1 wash basin. 1*40HQ can load 70 sets (in parts) or 20 sets (as 1 set). The main structure is made from Aluminum section, with EPS sandwich panel for wall & roof
!
6 workers can build 20 sets in one day!
MOST ECONOMIC option for Site toilets & shower rooms, Labor Camp bath solutions set up! We Already sell to Malaysia, India, Thailand, Myanmar, Vietnam, Oman, Saudi Arabia, Qatar, Indonesia, UAE, Philippines, Kenya, Uganda, Tanzania, Congo, Nigeria, Ghana, Mozambique & many other countries.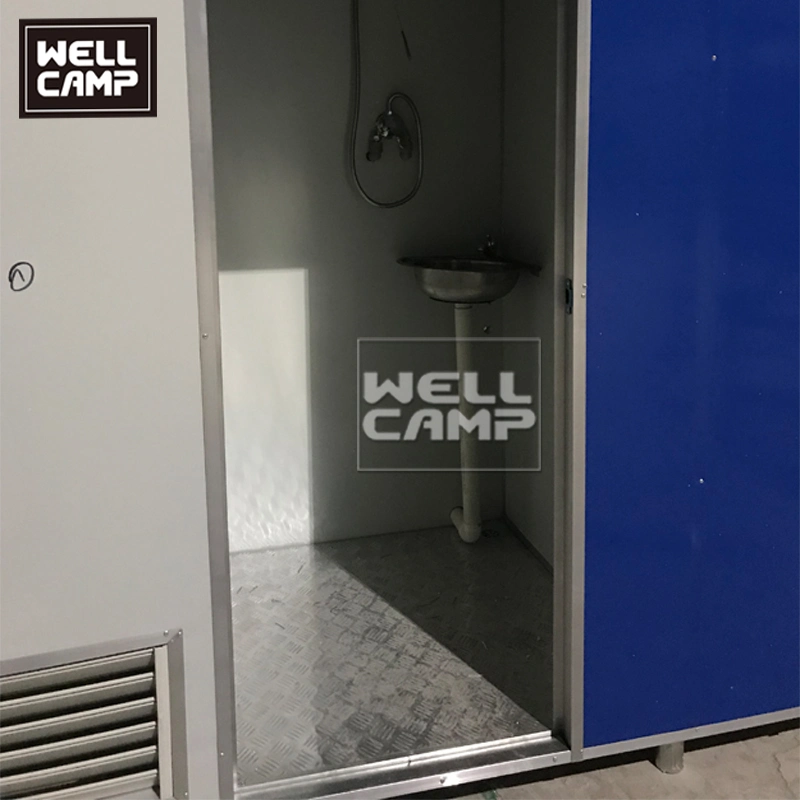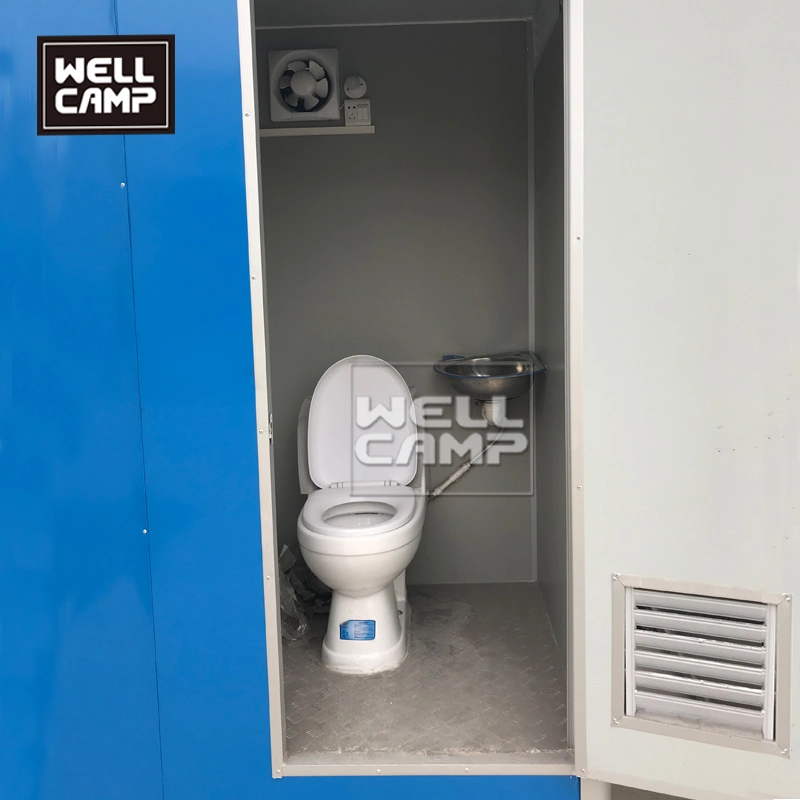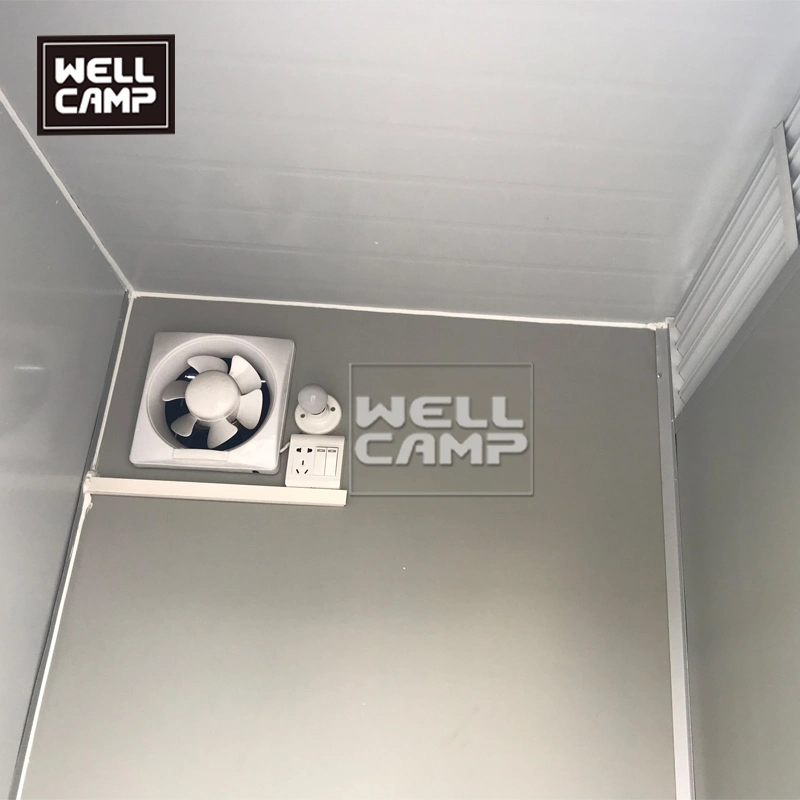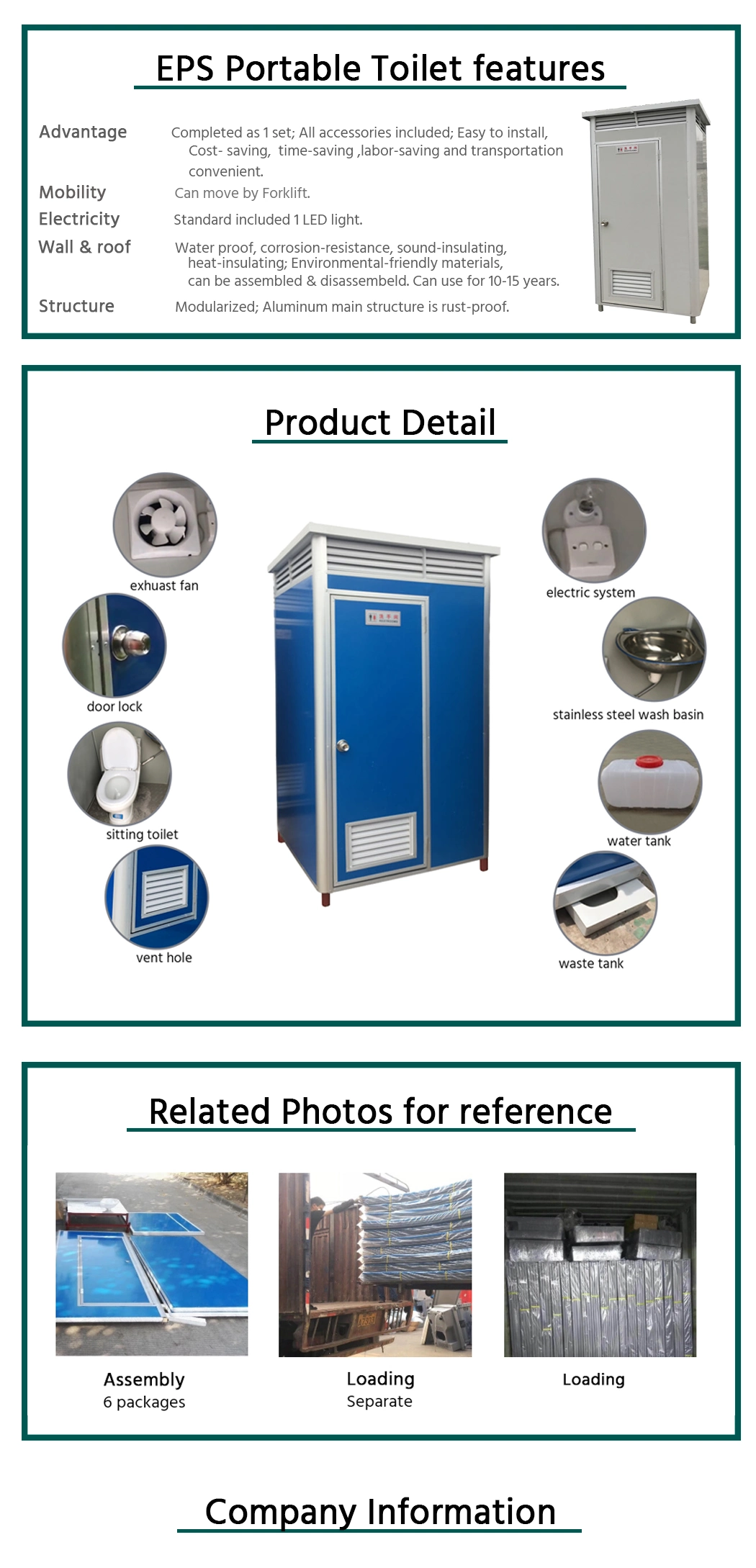 GUANGDONG WELLCAMP STEEL STRUCTURE & MODULAR HOUSEING CO.,LTD is a 100% exporting factory which has more than 15 years experiences in prefab housing area. Our factories locate in Zhao Qing city, Guangdong, China, area 20000m² and office locates in Foshan city, Guangdong, China. We have a professional team of installation engineers with more than experiences in more than 80 countries & regions. WELLCAMP dedicates to offer prefab solution for container houses
,
steel structure warehouses & workshops, portable toilet, etc.
WELLCAMP have successful completed many projects in Saudi Arabia, Oman, Qatar, Mozambique, Congo, Indonesia, India, Thailand, Brazil, Mexico and other countries around the world. We have also shipped to USA, Germany, Australia, Pacific Islands, Carribean islands, South America etc.
Our REVOLUTIONAL product - FOLDING CONTAINER HOUSE can easily set up in 4 minutes and have successfully shipped to USA, Germany, France, Australia, Japan & many different countries. We also have our Economic Flat Pack Container Houses, Luxury Flat Pack Container Houses, Detachable Container Houses, Enhanced Detachable Container Houses, 20ft Expandable Container Houses, 40ft Expandable Container Houses, Luxury Modified Shipping Container Houses, Container Villas, Container Offices & Container Classrooms etc. WELLCAMP dedicates to offer the most integrated camp site prefabricated buildings & facilities solutions with our love & passion. WELLCAMP, Moving the World.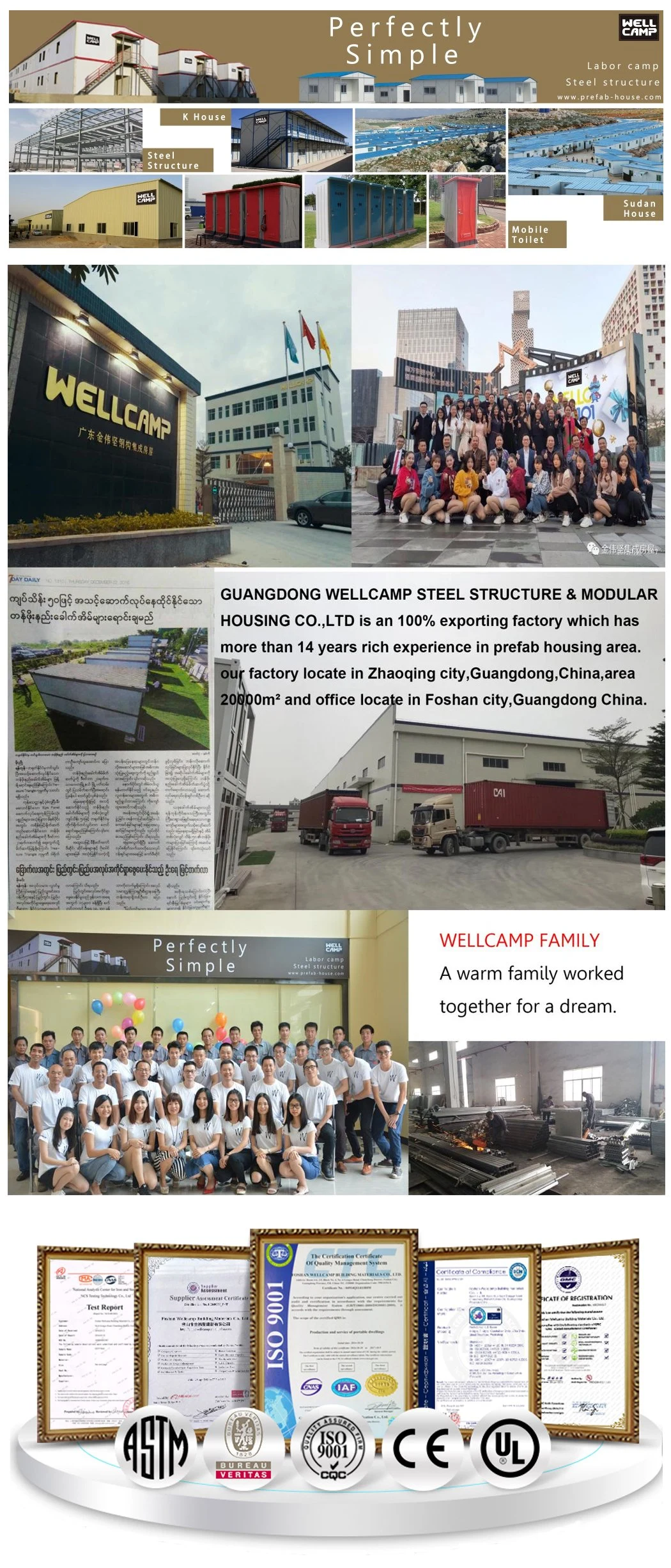 Contact : Siwen Chen

Tel : +86 -757-82801990
Fax : +86-757-82729158
Web1 : wellcamp.en.made-in-china.com
Web2 : wellcamp.en.made-in-china.com
FAQ
Q1. Are you the factory or the trading company?
A1.We are the factory which located in Zhaoqing city, and office in Foshan city,China.
Q2. What products do you offer?
A2. We focus on prefab labor camp, steel structure, container houses, modular villa for more than 14 years.
Q3. What is your payment term?
A3. The payment term are TT and L/C.
Q4. What is your MOQ (minimum order quantity) ?
A4. For the prefab house is 200 square meters and 1X40HQ for container house or small units house.
Q5. Do you have the experience to cooperate with the government?
A5. As a famous brand, Wellcamp has successfully completed many projects with government, international joint venture, construction company and charity organization in various fields of oil, military camps and emergency function in Saudi Arabia, UAE , Qatar, Sudan , Mozambique, Congo, Brazil, Mexico, India, ,Indonesia, Thailand and Philippines. In the recent years.
Q6. How is your after-sales service?
A6. Any question, welcome to contact us.24 hours available for you.
2. One order, one special person to follow the whole production.
3. For the house install, we will give you the 3D install drawing. If you need, we also can send you an engineer to teach your workers, but you have to charge the double ticket, accommodation, food and salary.
Q7. What information should we offer before you quote?
A7. you have the drawing, pls give us and tell us the material you use.
If no drawing, pls tell us the usage and the size of the house, then we design for you with the good price.
Just tell us your requirement
1) If you are interested,pls tell us your ideas,we will suggest and design for you.
2) If you have drawing ,pls send us, we will give you the good price.
FOR MORE INFORMATION,DO NOT HESITATE TO CONTACT US.